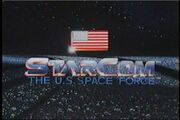 Starcom: The U.S. Space Force
is an animated syndicated series in the 1980s that spawned a successful
motorized toy line franchise in
Europe and Asia for Mattel, despite its failures to succeed in its U.S. domestic market. The plot was based on the adventures of an American astronaut brigade as they fought off attempted invasions by
Shadow Force
, a nasty collection of aliens and robots led by the nefarious
Emperor Dark
.
The show was developed with the help of the Young Astronauts' Council with the original intention of sparking young viewers' interest in the U.S. NASA Space Program. However, Starcom did not get much of a chance to make kids want to join the space program as it was cancelled off the air after one brief season. It was revived for a short run in the early 1990s, but no new episodes were aired. It was produced by DiC Enterprises and distributed by Access Syndication.
Together, the members of Starcom fought Dark's legions of robotic minions, flying into battle in a fleet of advanced spacecraft.
Shadow Force
Edit
Executive Producer: Andy Heyward
Produced by: Richard Raynis
Directed by: Marek Buchwald
Animation Director: Kazumi Fukushima
Creative Supervisor: Robby London
External Links
Edit
Ad blocker interference detected!
Wikia is a free-to-use site that makes money from advertising. We have a modified experience for viewers using ad blockers

Wikia is not accessible if you've made further modifications. Remove the custom ad blocker rule(s) and the page will load as expected.